Our Design Engine
Our design engine makes it easier than ever to choose a letter style, color, an outline, or shadow, and any combination.

We will soon be making it even easier by allowing you to enter your boat name and see immediately how your lettering will look!
We supply your boat lettering using the highest quality 3M Premium Cast Vinyl Lettering Material,
3M Premium Cast Vinyl is guaranteed by the manufacturer to last years longer!

If comparing us with another sign company make sure that they are using the best vinyl, because we do.
We supply ALL the needed instructions
as well as application necessities
so you will be able to complete your lettering project easily and most importantly, with professional results!
We also offer 22k gold lettering materials.
Nothing can compare to the sparkle and beauty of real gold.

The 22k gold lettering material is applied using the same techniques as our Premium Vinyl.

You will be convinced that lettering your own boat has never been easier.

You Can Letter Your Boat Just Like A Pro!

Design your own boat lettering with confidence.
Designed exclusively for My Boat Lettering.com, This design engine helps you to see...
boat lettering style changes,
boat lettering color combinations,
Lettering outline effects,
Lettering shadow effects all with the click of a mouse button.
Please Note at this time our design engine cannot display your boat name, however we are updating this site and all changes will be able to be viewed immediatly.
we are still offering the same service as before. upon submission and payment for lettering we will work up the design sketch for your boat and will email it to you promptly for your approval and will promptly prepare your order.
We are a full service sign company. Please feel free to ask us any questions about custom logos or designs and graphics for your boat. If you do not see what you are looking for please contact us and we will be happy to help tou with all of your design and lettering needs.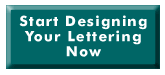 Visit Our Boat Lettering Design Engine... You will see

Lettering your own boat has never been easier!